Welcome to the International Study Centre
Do you want to live and learn in one of the world's best cities? At UEL's International Study Centre (ISC) you will have the opportunity to learn in the heart of a vibrant, modern university where you will have access to all the facilities you need to live and learn in an inclusive, friendly environment.
Your Study Centre
The International Study Centre is based in the Docklands Library, right in the heart of Docklands Campus. This conveniently places you in the centre of the campus, near the spacious Knowledge Dock and food outlets with amazing views of the Thames River and London City Airport.
Throughout your time in the centre you will enjoy:
Access to full university facilities including the Library, Student's Union and the award-winning Student Support Team
Welcome programme when you begin your studies
Professional Skills Development classes
Additional supplementary classes where required
Tutorials with your personal tutor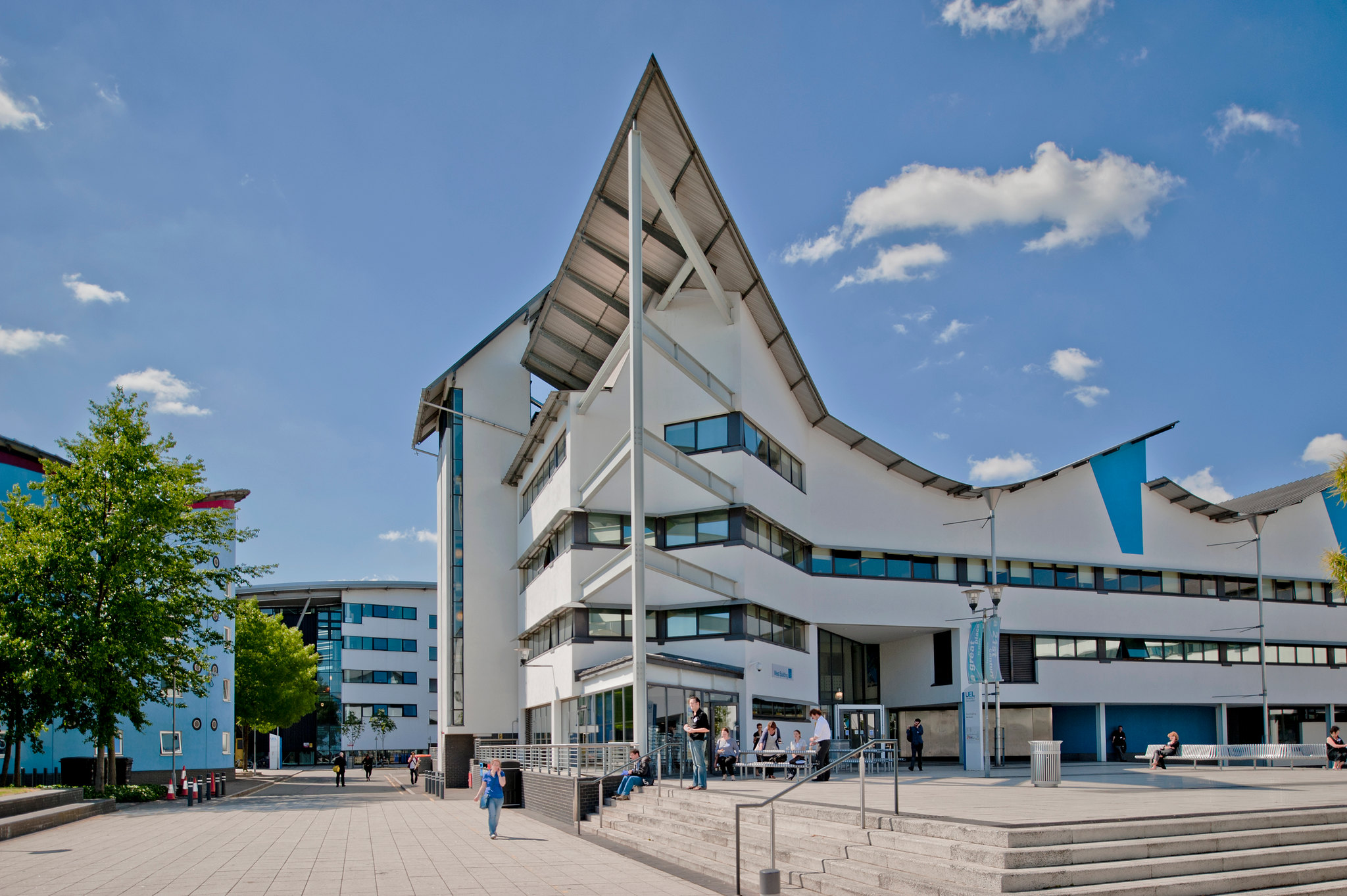 Small class sizes
Classrooms with interactive white boards and free Wifi
Access to guest lectures on campus
Varied classroom teaching techniques to help prepare you for future studies
Varied assessment types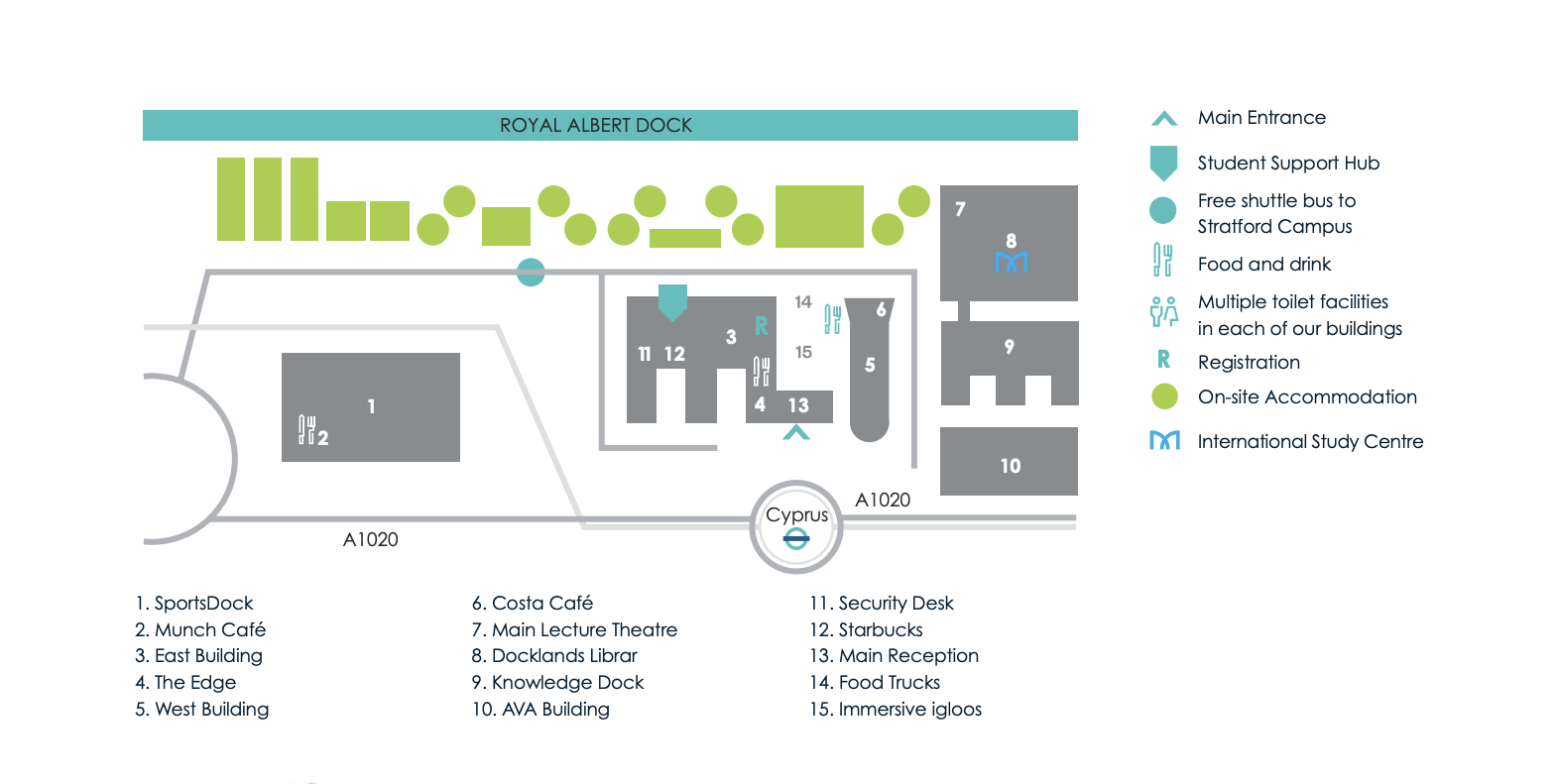 Get ready for an exciting future
The University of East London is a modern, career-focused university that puts you at the heart of everything we do.
Making you feel at home from the moment you step onto campus is important to us, and we are committed to ensuring that you enjoy your time at the university. With a range of facilities for you to use whilst you study, and award-winning student support, we are committed to ensuring that you have all the tools you need to reach your goals.
Vision 2028: a University of East London Commitment to Excellence
Learning and living on campus is a dynamic, exciting place to be. University of East London is undergoing an exciting transition, and you will love being involved in it. Investing in the wellbeing of staff and students, the university is committed to promoting a study/lifebalance. This focus means that you will have the opportunity to participate in a number of personal development opportunities, enabling you to pick up a new hobby, express yourself through one of the creative clubs on offer, or participate in sport.
A Careers-led University
As a careers-led university, UEL works alongside industry partners to deliver practical education to our students and innovative solutions to 21st century problems for our partners and society.
The careers zone platform includes:
Access to a regularly updated jobs board to find internships, placements and flexible part-time work
Mentoring programmes with industry experts and volunteering experiences
1-2-1 career coaching sessions and advice for budding entrepreneurs
Careers workshops and employer events
A varied assessment structure
Learning styles are an important part of who we are as individuals, with each one of us learning and studying in a different way. Unlike many higher education institutions, the University of East London really pushes for an inclusive study environment, and so, as part of your studies there is a varied assessment structure. The university is committed to developing well-rounded graduates who are prepared for the demands of a changing world of work. Instead of focusing only on examinations and essay writing, throughout your degree studies, you will be given the opportunity to develop your presentation skills, work with peers from across different subject areas of study and build confident communication skills.
Personal and Professional Guidance & Support
UEL is second to none when it comes to International Student Support. In fact, we are ranked 1st in London for international support and visa advice*. We understand that studying abroad can be stressful. We want to make your transition to studying in the UK as easy as possible, so for this reason, we want to make you aware that we are here to help you every step of the way from initial application through to graduation.
*International Student Barometer, 2017
A Campus University with a Difference
The University of East London is conveniently located in the heart of London's Docklands. With campuses at Royal Albert Dock, and in Stratford, everything you need is on your doorstep. London is well known for being at the heart of fashion, sport, entertainment and business, all of which are just a short distance from where you will live and study. With accommodation on-campus**, and easy access to 26 sports clubs and a huge variety of societies, there is something for everyone at East London.
**Please note: On-campus accommodation is available for students over the age of 18. Off-campus Homestay is available for students under 18 years of age.